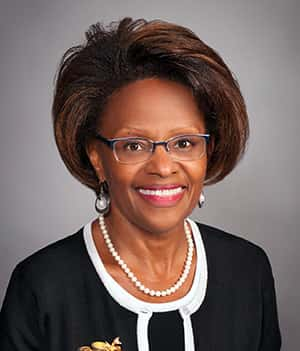 Courtesy Photo: Dr. Bernice Cobbs, principal at Benjamin Franklin Middle School, has been named "Outstanding Middle School Principal of Virginia."
Cobbs is principal at Benjamin Franklin Middle School
Bernice Cobbs, principal of Benjamin Franklin Middle School, has been named the 2019 Outstanding Middle School Principal of Virginia by the Virginia Association of Secondary School Principals.
"VASSP is honored to recognize the outstanding work of Dr. Cobbs," said Dr. Randy Barrack, VASSP executive director. "Effective schools are vital to the success of students and the high expectations demanded by principals and their belief in the capacity of all students to perform is critical in school leadership. The stories of such leadership that we capture in the annual award program continues to impress and inspire all of us."
VASSP annually awards one middle level and one high school winner in the commonwealth. Principals are typically nominated by their peers and/or division superintendents. The VASSP Principal Awards Committee reviews the nominations and principals selected for consideration of the award are interviewed by a panel of principals, superintendents and other leaders in PreK-12 education.
As a principal, Cobbs has proven success in empowering leadership through staff development, facilitating partnerships and cultivating strong relationships in the community.
"The leadership abilities Dr. Cobbs has demonstrated in Franklin County and throughout the state account for the numerous awards and recognitions she has received all while remaining very humble," said Dr. Mark Church, superintendent of the Franklin County School Division.
Cobbs will receive the state association's award at the 92nd annual Virginia Middle and High School Principals Conference and Exposition in Portsmouth, June 23-26. She will be honored by VASSP and Herff Jones later this fall with the presentation of the state principal's ring at a dinner ceremony in Richmond.