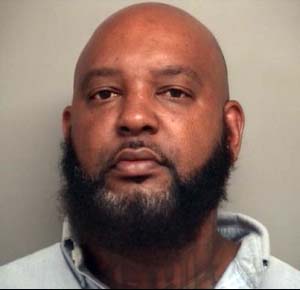 Mitchell O'Shea Wilson
Suspect arrested with two handguns in his possession
An Axton man faces 11 felony charges in two counties following a 14-mile pursuit in Henry County on Tuesday, June 11.
Mitchell O'Shea Wilson, 46, is charged with possession of two firearms after being convicted as a violent felon, eluding law enforcement and commission of a felony as an habitual offender, according to Capt. T.S. Easter with the Henry County Sheriff's Office.
Wilson also faces felony charges in Stafford County on robbery, conspiracy to commit robbery, abduction, breaking and entering, grand larceny, grand larceny of a firearm, and larceny with the intent to sell.
Henry County deputies were assisting Stafford County Sheriff's Office on June 11 in the apprehension of Wilson, who was believed to be "armed and dangerous," Easter said. Multiple agencies were conducting searches for Wilson.
Henry County deputies attempted to perform a traffic stop on Wilson's vehicle, traveling north on William F. Stone Highway, at 12:34 p.m. when the driver allegedly accelerated, refusing to stop.
A pursuit ensued for 14 miles along William F. Stone Highway, Irisburg Road, Barker Road, Axton Road and A.L. Philpott Highway, where the vehicle came to a stop at the intersection of A.L. Philpott Highway and Old Liberty Drive.
Wilson was taken into custody without further incident. Wilson was allegedly armed with two handguns.
No injuries or property damage were reported during the pursuit.
Wilson is being held in the Henry County Jail without bond.