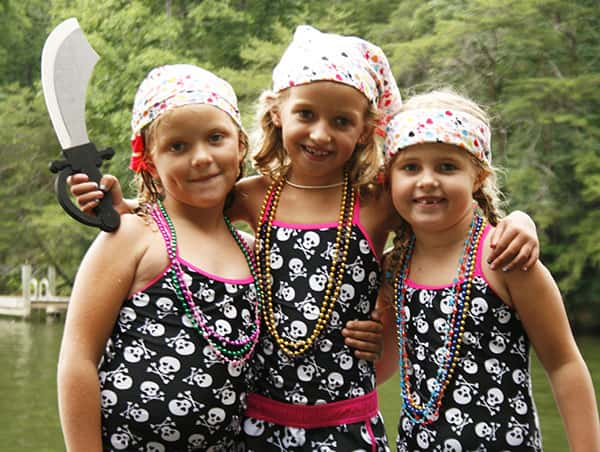 Courtesy Photo: Mini buccaneers celebrate Pirate Days festivities. The SML Regional Chamber of Commerce will host a new event, Pirates & Pancakes, on July 21 from 8:30 to 10:30 a.m. on the patio at Mango's Bar & Grill.
The Smith Mountain Lake Regional Chamber will host a family-oriented pancake breakfast on Sunday, July 21, in celebration of Pirate Days, a weekend of festivities planned at various locations on and off the lake.
Pirates & Pancakes will take place from 8:30 to 10:30 a.m. on the patio at Mango's Bar & Grill. Volunteers dressed in pirate costumes will be flipping the flapjacks. Others dressed as pirates and mermaids will be available for photos, and kids will have the opportunity to dig for hidden treasure.
"We are so excited for this brand new event geared toward bringing families together for fun and fellowship at Smith Mountain Lake," said Vicki Gardner, the chamber's executive director. "Pirate Days gets bigger and better every year, bringing in more and more visitors, which in turn benefits area businesses."
Cost for the event, which includes pancakes and beverages, is $8 with children 3 and under admitted free.
For more information, log on to visitsmithmountainlake.com/pirate-days or contact Laura Moritz at 540-721-1203 or lmoritz@visitsmithmountainlake.com.