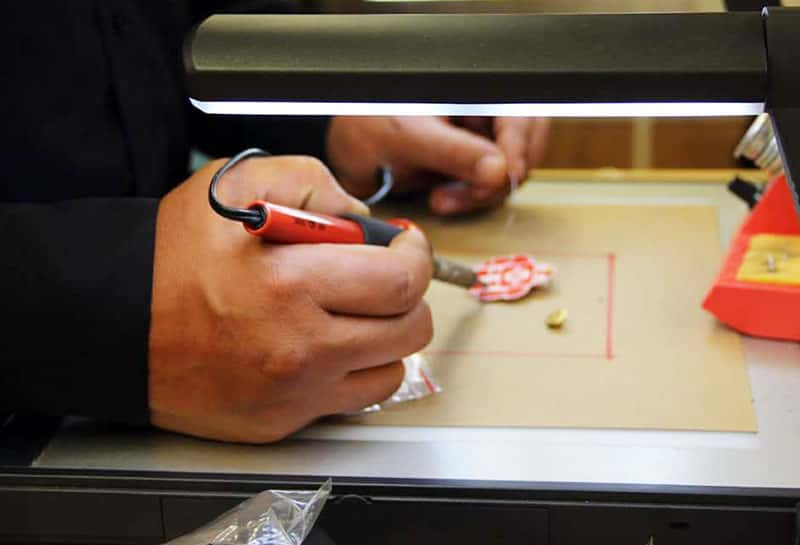 Courtesy Photo: PHCC is on the hunt for the next big idea! If you have a great idea for a new product or technology, join PHCC's fifth-annual Big IDEA Challenge for a chance to bring the idea to life and vie for a product-developer prize package worth over $5,000. The deadline to apply is October 18. This is a photo of an instructor providing a soldering demonstration in the PHCC FabLab.
Inventors invited to participate to win package valued at $5,000
What's the Big IDEA? Every year, Patrick Henry Community College challenges local residents to do something big with their great ideas. Anyone who has an idea for a new product or technology can bring their ideas to life and vie for a prize package valued at over $5,000.
In this 30-day competition, participants will have access to professional product-development guidance and the high-tech prototyping technologies available in the college's FabLab. As participants' products or technologies start taking shape, they will compete against each other for a product-developer prize package.
Entrepreneurs, individuals and duos (teams of two) can apply. The deadline to submit a product or technology idea is Friday, Oct. 18. The 30-day challenge begins Oct. 22.
"With every Big IDEA Challenge we've hosted, I am increasingly amazed at the talent and ingenuity in Martinsville and the surrounding area," said Community Development Coordinator Matt Ratliff. "While our previous winners are working to patent their products and develop them into business concepts, I'm ready to see another group of creative community members begin realizing their potential."
Up to ten entries — individuals or teams of two — are chosen to participate. Those accepted receive one-on-one mentoring, specialized training, free access to the Fab Lab (a fabrication laboratory is a space equipped for product prototyping and visualization), and design assistance.
At the end of training, participants pitch their product ideas to a panel of judges. The winner receives three months of free access to the Technology Accelerator, a space designed to help anyone develop an idea into a marketable product or business. Winners also receive continued design assistance, additional mentoring, as well as free media and promotional opportunities.
For more details call the IDEA Center at 276-656-5461or email our Community Coordinator at mratliff@patrickhenry.edu. Applications are available online at www.patrickhenry.edu/wf/idea-challenge or at the Dalton IDEA Center at 26 Fayette St. in Uptown Martinsville. Entry and participation in the challenge is free. All intellectual property and equity remain with the entrepreneur teams and individuals.