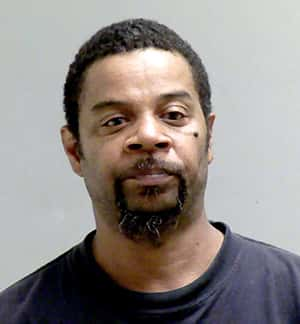 Tyrone Angelo Cox
Additional charges of burglary and grand larceny pending against suspect
A 49-year-old Martinsville man has been charged with malicious wounding for allegedly stabbing his neighbor Friday, Oct. 11 at the apartments on 940 Myrtle Road.
Tyrone Angelo Cox was arrested without incident Friday and is being held without bond, according to Major Rob Fincher with the Martinsville Police Department.
When officers responded to the call, they found the 43-year-old male victim with a stab wound to the chest. The victim was transported to SOVAH Hospital and transferred to Carilion Roanoke Memorial Hospital, where he was treated and later released.
Information and evidence collected at the scene led to the arrest of Cox. A search of Cox's apartment discovered property that had been stolen from the victim's apartment, Fincher said. Additional charges of burglary and grand larceny against Cox are pending.
No additional information has been released at this time, as the investigation in ongoing, Fincher said.
Anyone with information about this crime is urged to contact Sgt. Richard Ratcliffe at 276-403-5331 or Crime Stoppers at 276-63-CRIME.