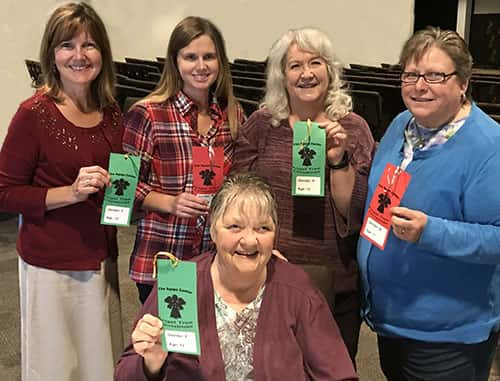 Courtesy Photo: Part of the Agape Angel Tree Team recently prepared over 1,700 Angel tags to be hung on over 25 trees displayed throughout the community. From left are Deb Cochrane, Ginger Delong, Linda Matthew and Denise France. Seated is Bonnie Wilson.
Over 1,704 local children will be served by this ministry
The 10th annual Agape Angel Trees are popping up around in churches and local businesses in the Smith Mountain Lake community.
Individuals or groups can obtain an Angel gift tag, which lists the age, gender and suggestions for gifts for a child.
Angel Tree Coordinator Denise France, who is also the office manager for EastLake Community Church, has headed this project since its inception over 10 years ago.
"When we started this in 2009, we provided gifts for 103 children. Now in 2019, we are anticipating 1,704 children will be served by this ministry," France said. "Unwrapped gifts worth $30, with the Angel tag securely fastened, can be returned to the same place the tree is displayed—the church, business or Agape — throughout the holiday season."
To accommodate those who don't like to shop or perhaps find it difficult for various reasons, a donation for $30 can be made, and skilled, enthusiastic volunteers will do the shopping for you! Just select the Angel tag with the gender/age you prefer, attach a check for $30 payable to Agape, and leave it with the business, church or Agape (P.O. Box 573 or 1159 Promised Land Road, Moneta, VA 24121 or online at www.agapecentersml.org).
Information is available at all 19 church locations who are member churches of Agape: Bedrock Church—Franklin County; Bedrock Community Church; Covenant Fellowship; Franklin Heights Church—Rocky Mount, CrossPointe, & Union Hall; Dwelling Place Christian Fellowship; EastLake Community Church; Flint Hill Baptist Church; Goodview Baptist Church; Halesford Baptist Church; Inner-Faith Fellowship Ministries; Morgans Baptist Church; Palestine Baptist Church; Radford Baptist Church; Rocky Mount Baptist Church; Staunton Baptist Church; Vitalize Church; and Westlake Baptist Church.
Business locations include Smith Mountain Building Supply, Gift's Ahoy and Re/Max-Phyllis Johnson.
The Agape Center at Smith Mountain Lake provides mentoring, food, clothing, household goods and more to those in the community who need help through difficult times.  Over 300 volunteers serve an average of 2,500 individuals per month from Franklin and Bedford counties.  The Agape Center is a partner program of Feeding America Southwest Virginia.