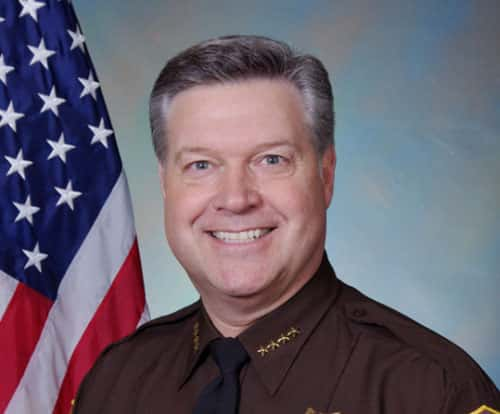 Franklin County Sheriff Bill Overton
Democrats take control of Senate, House for the first time in 20 years
W.Q. "Bill" Overton Jr. has been re-elected to his third term as Franklin County Sheriff.
Overton won 56 percent (9,562) of the vote with his opponent J. Riley Hodges taking 44 percent (7,467) of the vote, according to unofficial returns.
Incumbent Allen W. "A.J." Dudley was re-elected to his second term as commonwealth's attorney with 55 percent (9,050) of the vote, while challenger Steve Maddy won 45 percent (7,371) of the vote.
Commissioner of Revenue Margaret Torrence was also re-elected with 51 percent (8,392) of the vote with challenger Andy Turner receiving 49 percent (7,970) of the vote.
Across the state, Democrats are now in control of Virginia government for the first time in more than 20 years.
Locally, however, Sens. Bill Stanley and David Suetterlein easily defeated their challengers, Sherman Witcher (I) and Flo Ketner (D), respectively.
In the House of Delegates, Republicans Charles Poindexter ran unopposed, while Kathy Bryon defeated her challenger Jennifer Woofter (D).
On the Franklin County Board of Supervisors, Ronald Keith Mitchell Jr. defeated incumbent Cline Brubaker with 56 percent of the vote in the Blackwater District, while Blue Ridge District Supervisor Tim Tatum ran unopposed. Incumbent Union Hall District Supervisor Tommy Cundiff defeated his challenger John Hinkell with 57 percent of the vote. And Lorie Smith won the Gills Creek District seat, vacated by Bob Camicia, with 64 percent of the vote in a three-way race.
On the Franklin County School Board, incumbents Julie Nix and P.D. Hambrick ran unopposed, while newcomers Arlet Greer and Jon Atchue were elected without opposition.