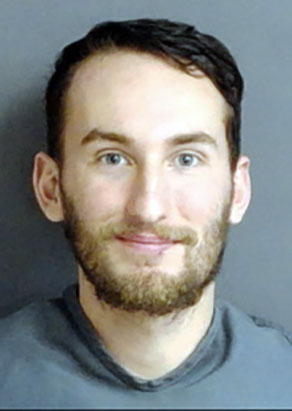 Michael Alexander Brown
Franklin County Sheriff's Office clarifies details of apprehension of Michael Brown on Nov. 27
Law enforcement authorities found murder suspect Michael Alexander Brown on Nov. 27 in the attic of the residence where he allegedly killed his mother's boyfriend, Rodney Wilfred Brown, on Nov. 9.
"As officers prepared to enter the attic space of the residence, Michael Brown crawled out of the attic and was apprehended," said Capt. Phillip Young with the Franklin County Sheriff's Office, providing answers for questions about the apprehension on Monday (Dec. 2). "At no point did Michael Brown contact law enforcement and make arrangements to surrender or turn himself in."
Michael Brown, 22, was taken into custody around 8 a.m. on Nov. 27 at the residence on 241 Woodthrush Circle in Hardy.
The U.S. Marshals, FBI, Virginia State Police and Franklin County Sheriff's Office took part in the apprehension.
The "intense" 18-day manhunt for Marine Michael Brown was an "extensive effort" and spanned three states, said Franklin County Sheriff Bill Overton at a press conference last week.
"I am thankful that this situation has come to a successful closure with no injury to the public or law enforcement personnel," Overton said at the press conference.
Michael Brown was being interviewed at the time, Overton said, but he declined to comment on details of the case, as it is an active investigation.
"We received information that had us refocus on the Hardy residence, and we were able to make contact with Mr. (Michael) Brown this morning and thankfully take him into custody without any injury," said acting U.S. Marshal Brad Sellers during the press conference. Sellers said no one else was present at the residence when Michael Brown was arrested.
"The Marshal Service has documented about 340 investigative action that have taken place over this almost three-week period," he added.
WFXR News reported that defense attorney Deborah Caldwell-Bono said Michael Brown was being held in the Franklin County Jail and would be transferred to the Western Virginia Regional Jail.
Michael Brown is a Marine, who deserted his post at Camp Lejeune, N.C., where he served as a combat engineer, on Oct. 18, Young said. He was seen around Franklin County in the two weeks prior to the murder.