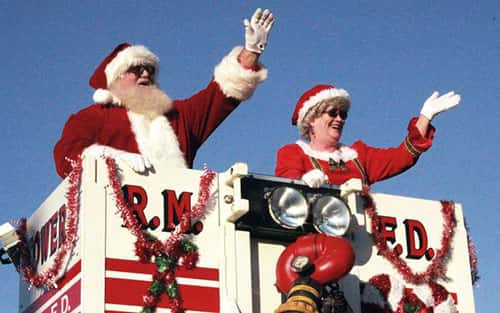 Courtesy Photo: Santa and Mrs. Claus will greet the crowd at the Franklin County Christmas Parade on Dec. 8.
The annual Franklin County Christmas Parade will kick off in Rocky Mount at 3 p.m. on Sunday, Dec. 8.
The Franklin County High School JROTC Color Guard will lead the way, as the FCHS Eagle Band fills the atmosphere with holiday music, setting the mood for an old-fashioned Christmas parade.
Crowds cheer with excitement as colorful parade floats, community and youth groups, performers, horses, canines and Santa Claus travel through town.
The parade line-up begins on Tanyard Road (near the DMV), travels down South Main Street, turns on Floyd Avenue then continues down Franklin Street to the Rocky Mount Community & Hospitality Center (train depot).
Rain date is Dec. 9.
The parade is hosted by the Rocky Mount Rotary Club.
For more information or to register to participate, email rockymountrotaryclub@outlook.com, visit https://www.rockymountrotary.com/5 or https://www.facebook.com/rockymountrotary/5745.