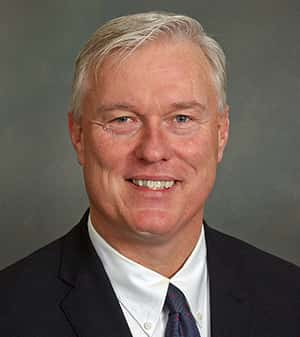 Dr. Mark Church
Dr. Mark Church has been in leadership in local division for 20 years
Franklin County Public Schools Superintendent Dr. Mark Church is retiring on Aug. 1, 2020, completing his 34-year career in public education.
Church has been at the division's helm since 2012. His current employment contract runs through June 2022.
The school division has prospered and grown during Church's eight years as superintendent and prior 12 years as Career and Technical Education (CTE) Director, despite challenging economic times that included a recession and significant reductions in state and federal aid. As superintendent, he has led the division through those tough economic times while working with the school board to provide raises for teachers in seven of the previous eight years.
"I am most proud of my role in helping to create and sustain a positive work environment for the division employees, and in helping to provide FCPS students with a quality education, including experiences and results that are envied by colleagues across the Commonwealth," Church told the school board Monday night.
"I am an educator at heart," Church said, "and the next chapter of my work will most likely be tied to the education field."
He plans to continue working as a part-time professor at James Madison University, teaching courses to prepare instructional leaders. Church also plans to explore consulting opportunities and to continue his work on local non-profit boards, including Carilion Franklin Memorial Hospital and the United Way of the Roanoke Valley.
Although not a native, Church grew up in Franklin County, attending Boones Mill Elementary and Franklin County Middle School (inaugural class) and then graduating from Franklin County High School (FCHS).
Before returning to Franklin County, Church was the Virginia Director for SkillsUSA (VICA) and the former Industrial Cooperative Training Teacher Coordinator for both Lynchburg City and Rockingham County schools.