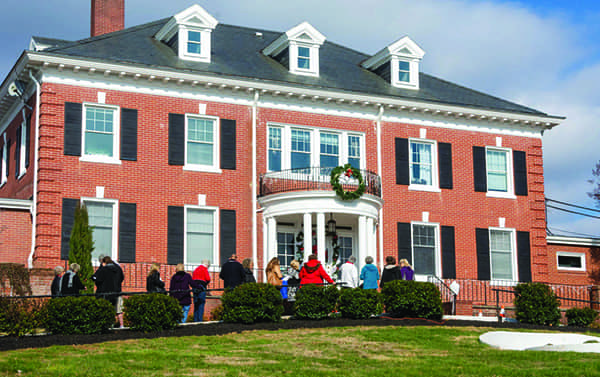 Courtesy Photo: STEP Into Christmas tour-goers line up to enter the Earth Environmental building, which once served as the Wolfe Medical Center and was built by Nathaniel Angle, one of Rocky Mount's prominent historic families.
The fundraiser benefits low income families and people in poverty
The second "STEP Into Christmas" Home Tour earlier this month raised more than $29,000, including ticket sales and sponsorships.
The home tour is a fundraiser for Solutions That Empower People (STEP), a nonprofit community action agency that offers services to low income families and people in poverty in Franklin, Patrick, Henry, Pittsylvania and Bedford counties, along with the cities of Martinsville and Danville. The agency serves more than 3,500 people each year and is funded largely by state and federal grants.
"We are grateful to our homeowners for so graciously opening up their homes to tour-goers," said STEP Executive Director Marc Crouse. About 450 tickets were distributed to visitors and sponsors.
"Funds from donations and events, like the home tour, allow us to offer more services to more people," Crouse added. "Money received from grants have stipulations about how those funds can be used, and unfortunately, not all needs fit neatly into specified categories. We're so pleased to be able to expand our reach by holding this event in our back yard and reinvesting in our community."
Several hundred visitors flocked to the Claiborne Avenue neighborhood to see the homes decorated for Christmas. Each of the six homes had features unique to it, and the homeowner's personalities were reflected in their styles of decoration.
In addition to seeing the decorated homes, visitors learned about local history and some of Rocky Mount's founding families with a stop at Historic High Street Cemetery.
"What fun to see the insides of old beautiful homes," commented Karen Webb on the STEP Into Christmas Facebook page after the tour.
Visitors were treated to refreshments by STEP Board members and several community businesses. Santa Claus was also present to inspire some holiday spirit.
A "Festival of Trees," featuring Christmas trees decorated by 10 of STEP's sister nonprofits, was an added attraction to the event. Visitors voted on their favorite tree by placing new, unwrapped toys under it. More than 430 toys were collected and subsequently distributed to local families through We Care Franklin County.