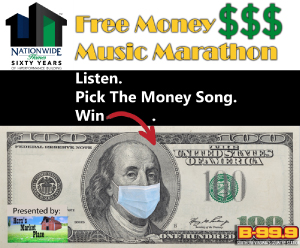 A new way to win BIG!  Introducing the Nationwide Homes Free Money Music Marathon on B99-9.
Listen each weekday for the marathons to start.  Once the marathon has started keep track of the songs we play because one of them is the money song.  When the marathon ends be caller number 9 and guess which song was the money song.  If you are right – you win, if not we add money to the jackpot.  Keep listening as the jackpot grows to win even more money!
Listen.
Pick the Money Song.
Win.