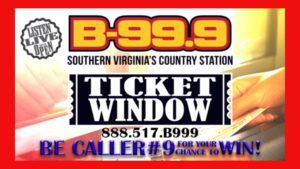 B-99.9 Southern Virginia's Country Station has our own EXCLUSIVE Ticket Window that opens to give our listeners a chance to win  TICKETS* to various concerts and events. 
Tickets to see Justin Moore at the Danville Jubilee all this week!  Get more information about the show Here 
Here's how it works:
Listen to B99.9-FM
Call Us when we Announce the Ticket Window is OPEN:
*no purchase necessary, must be 18+ to enter.