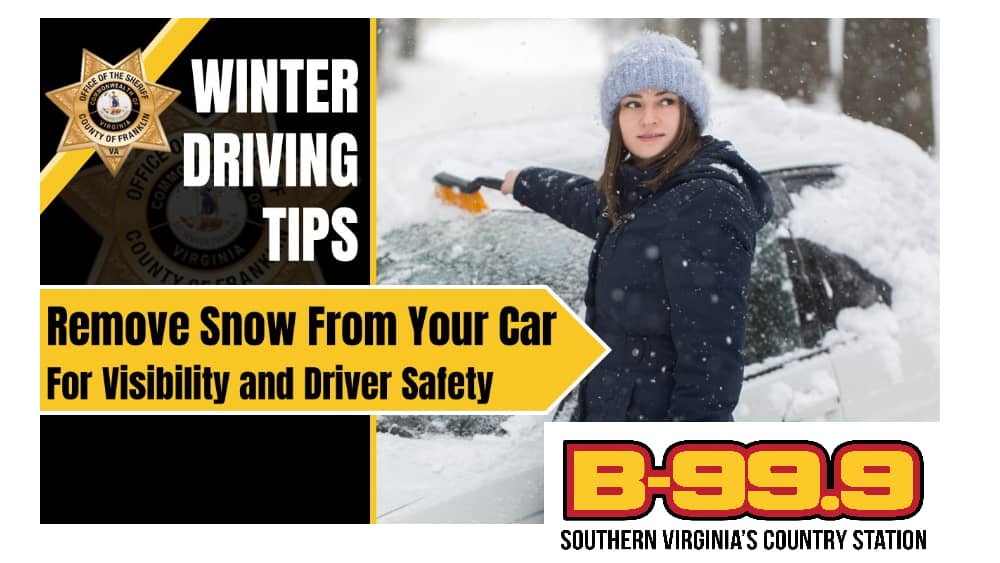 The Franklin County Sheriff's Office advises to prepare for winter driving on our area highways this season;
Stocking your vehicle with proper supplies, keeping your wipers clean, proper car seat adjustments for kids in large winter coats and many more.
Safe Winter Driving Winter driving can be hazardous and scary, especially in northern regions that get a lot of snow and ice.
Additional preparations can help make a trip safer, or help motorists deal with an emergency. This sheet provides safety information to your residents to help prevent motor vehicle injuries due to winter storms.
The three P's of Safe Winter Driving: PREPARE for the trip; PROTECT yourself; and PREVENT crashes on the road.
PREPARE Maintain Your Car: Check battery, tire tread, and windshield wipers, keep your windows clear, put no-freeze fluid in the washer reservoir, and check your antifreeze. Have On Hand: flashlight, jumper cables, abrasive material (sand, kitty litter, even floor mats), shovel, snow brush and ice scraper, warning devices (like flares) and blankets. For long trips, add food and water, medication and cell phone.
Stopped or Stalled? Stay in your car, don't overexert, put bright markers on antenna or windows and shine dome light, and, if you run your car, clear exhaust pipe and run it just enough to stay warm.
Plan Your route: Allow plenty of time (check the weather and leave early if necessary), be familiar with the maps/ directions, and let others know your route and arrival time. Practice Cold Weather Driving! *
During the daylight, rehearse maneuvers slowly on ice or snow in an empty lot. * Steer into a skid. *
Know what your brakes will do: stomp on antilock brakes, pump on non-antilock brakes. * Stopping distances are longer on water-covered ice and ice.
* Don't idle for a long time with the windows up or in an enclosed space. PROTECTYOURSELF * Buckle up and use child safety seats properly.
* Never place a rear-facing infant seat in front of an air bag. * Children 12 and under are much safer in the back seat. PREVENT CRASHES
* Drugs and alcohol never mix with driving. * Slow down and increase distances between cars. * Keep your eyes open for pedestrians walking in the road.
* Avoid fatigue – Get plenty of rest before the trip, stop at least every three hours, and rotate drivers if possible. * If you are planning to drink, designate a sober driver.
—————————————————————————————————————–
Listen for National Weather Service alerts on TV or radio or check for them online. There are two kinds of alerts:
A hurricane watch means hurricane conditions (sustained winds of 74 miles per hour [mph] or higher) are possible in a stated area. Experts announce hurricane watches 48 hours before they expect tropical-storm-force winds (sustained winds of 39 to 73 mph) to start.
A hurricane warning is more serious. It means hurricane-force winds are expected in a stated area. Experts issue these warnings 36 hours before tropical-storm-force winds are expected in the area to give people enough time to prepare for the storm.
For more information about hurricane watches and warnings, check out the National Weather Service's Hurricane Centerexternal icon. If you hear that there is a hurricane watch or warning in your area, you can take steps to get ready.
Get your car ready.
Make sure your car is ready before the storm hits.
Fill your car's gas tank.
Move cars and trucks into your garage or under cover.
Always keep an emergency kit in your car.
Visit Ready.govexternal icon for information on how to prepare your car and what to include in your kit.
If you don't own a car, consider making plans with friends or family or call authorities to get a ride if you need to evacuate.
Get your family and pets ready.
Go over your emergency plan with your family.
Keep checking for updates about the storm. Watch TV, listen to the radio, or check online.
Call the hospital, public health department, or the police about special needs. If you or a loved one is older or disabled and won't be able to leave quickly, get advice on what to do.
Put pets and farm animals in a safe place. Read more about pet safety during an emergency.
Get your home ready.
Clear your yard. Make sure there's nothing that could blow around during the storm and damage your home. Move bikes, lawn furniture, grills, propane tanks, and building material inside or under shelter.
Cover up windows and doors. Use storm shutters or nail pieces of plywood to the outside window frames to protect your windows. This can help keep you safe from pieces of shattered glass.
Be ready to turn off your power. If you see flooding, downed power lines, or you have to leave your home, switch your power off.
Fill clean water containers with drinking water. You'll want to do this in case you lose your water supply during the storm. You can also fill up your sinks and bathtubs with water for washing.
Check your carbon monoxide (CO) detector's battery to prevent CO poisoning
Be ready to evacuate or stay at home.
Always listen to authorities regarding whether you should evacuate or stay at home.
If a hurricane is coming, you may hear an order from authorities to evacuate (leave your home). Never ignore an order to evacuate. Even sturdy, well-built houses may not hold up against a hurricane. Staying home to protect your property is not worth risking your health and safety.
You may hear an order to stay at home. If driving conditions are dangerous, staying at home might be safer than leaving.
If you need to evacuate:
Grab your emergency supply kit and only take what you really need with you (cell phone, chargers, medicines, identification like a passport or license, and cash).
Unplug your appliances. If you have time, turn off the gas, electricity, and water.
Follow the roads that emergency workers recommend even if there's traffic. Other routes might be blocked or flooded. Never drive through flooded areas—cars and other vehicles can be swept away or may stall in just 6 inches of moving water.
Contact your local emergency management office and ask if they offer accommodations for owners and their pets. Learn more about evacuating with your pet.
If you need to stay home:
Keep your emergency supply kit in a place you can easily access.
Listen to the radio or TV for updates on the hurricane.
Stay inside. Even if it looks calm, don't go outside. Wait until you hear or see an official message that the hurricane is over. Sometimes, weather gets calm in the middle of a storm but then quickly gets bad again.
Stay away from windows—you could get hurt by pieces of broken glass or flying debris during a storm. Stay in a room with no windows, or go inside a closet.
Be ready to leave. If emergency authorities order you to leave or if your home is damaged, you may need to go to a shelter or a neighbor's house.