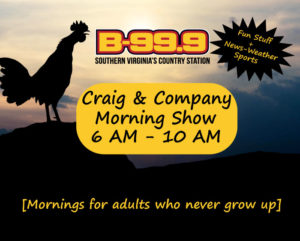 MONDAY to FRIDAY -- 06:00 AM - 10:00 AM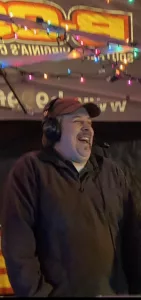 Beginning his radio career in 1994, Craig came to B99.9fm in 1999, making him the longest-serving current employee at the station. He is the sixth generation to live on his Floyd County family farm. Throughout his tenure at B99.9fm, Craig has worn many hats over the years, doing almost everything there is to do at a radio station, from various on-air shifts to production, programming, sales and more.
Craig currently presides over a rambunctious group of ne'er-do-wells that drift in and out throughout the week to entertain our listeners with their stories, poetry, advice and general shenanigans. Join Craig and Company each weekday morning from 6 to 10 a.m. right here on B99.9fm.
BRENT JONES

A native of Wild and Wonderful West Virginia, Brent relocated to Franklin County in the summer before his senior year at Franklin County High School. He began making regular visits to the B99.9 studios, reporting on life up on Pooter's Ridge and telling jokes in classic Brent Jones style. Winning over the hearts and minds of staff and owners as well as listeners, he has become a permanent fixture at the station for 22 years now. His favorite artists are the classics, such as The Possum, Brooks & Dunn, Bob Seger and the Eagles. Brent is now a published author, having written a Western novel entitled A Legend Untold, and has written lyrics to a number of songs. He enjoys watching Western movies and old tv shows, as well as working crossword and Sudoku puzzles. Listen for Brent's musings and words of wisdom on Tuesday and Friday mornings with Craig and Company, right here on B99.9 Brent's book can be found at: https://store.bookbaby.com/profile/cbrentjones as well as Amazon, Barnes & Noble and other online booksellers.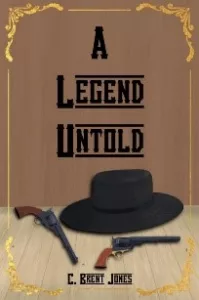 https://store.bookbaby.com/book/a-legend-untol