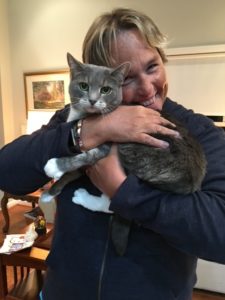 MONDAY to FRIDAY -- 10:00 AM - 03:00 PM
BIO
Robynn Jaymes is back on the air after a long battle with pancreatitis that started in 2011.  She found B99-9 just scanning the radio hoping to find something new to help pass time during the COVID-19 Pandemic.  She became a fan of the station and when it was time for her to get back behind the mic everyone at the station wanted her to be here.
You can reach out to Robynn by email    Robynn@B999fm.com   https://www.facebook.com/robynnjaymesB999FM
Virginia, North Carolina, South Carolina and Georgia are under a State Of Emergency as we prepare for Winter Storm Izzy.
Please look after your elderly family, friends and neighbors as well as your pets!
*Here is a checklist to get prepared for this Winter Storm     https://tinyurl.com/bzv97uun
*It's a common belief that dogs and cats are more resistant to cold weather than people because of their fur, but it's untrue. Like people, cats and dogs are susceptible to frostbite and hypothermia.
No pet should be left outside for long periods once temps reach freezing.
Here is how you can  help!
Outdoor pets should have shelter. Provide them with a dry, draft-free shelter that is large enough to allow them to sit and lie down comfortably but small enough to conserve body heat.
Insulate all sides of the shelter with foam board, old blankets, or plastic, then line the bottom with an old sleeping bag, coats, fleece, or even cedar shavings, straw, or hay.
Turn the shelter so it faces away from the wind, and cover the doorway with waterproof burlap or heavy plastic.
Try to place the shelter in a garage or covered porch, or beneath a carport, all of which can provide a few additional degrees of much-needed warmth. And be sure to raise the refuge a few inches off the ground to keep the cold from leeching up through the shelter's bottom while giving your furry friend a sense of security.
Make sure your pets have unlimited access to fresh, non-frozen water (by changing the water frequently or using a pet-safe, non-metal water bowl). Also, pets who spend a lot of time outside need more food to replace energy lost from trying to stay warm.
Before You Go Make Sure Your Have What You Need- courtesy of AAA
Check out Robynn's Daily Southern Comfort around 11:40 a.m. each weekday to add some positivity to your day.
Robynn's Country Cafe at every weekday at 12 noon we take a ride back to one of the best decades of country music, the '90s!  Randy Travis, Martina McBride, George Strait, Reba, Shania are just some of the country stars you will hear!
Plus, you won't want to miss the Story Behind the Songs at 12:40 p.m.  Robynn explores why the songwriter wrote it and why the singer sings it!
"I personally believe that Warriors are not born that way. They are created, melted, molded, purged by fire.  You know where you've been and what you have survived. Don't ever discount your experiences for anyone."   Take care of you. ~ Robynn Jaymes
Take care of You.